Current Pay Rates
Pay rates vary by the level of complexity/training and the shift being worked.
Level 1 Carers can expect £10.50 - £18.00 per hour (depending on shift and including holiday pay)
Level 2 and 3 (Senior) Carers can expect £11.25 - £18.50
We're happy to chat through how this works to help you understand what would apply for you.
(Rates are inclusive of holiday pay.)
What skills/experience are needed to work in Complex Care?
We have opportunities for workers with little or no experience through to Care Assistants with advanced/specialist Complex Care skills
You need to be passionate about delivering exceptional care to vulnerable people.
It would be great if you had experience in medication management, peg feeding, epilepsy, tracheostomies, ventilators and oxygen management. If you haven't that's not a problem, we can provide full training.
Formal care qualifications would be helpful, but are not essential.
A driving license and own transport are usually needed, but not always.
REGISTER YOUR INTEREST
Complex Care is varied, interesting and can be challenging too. It's also really rewarding and fun! We have a wide range of temporary and permanent opportunities offering full-time and part-time work.
Interested? Want To Know More?
Just Click Below And One Of Our Team Will Be In Touch.
Or Call 01803 470025 For An Informal Chat With One Of Our Team.
BENEFITS
What We Offer You…
Good Pay With Paid Mileage

Holiday Pay And Pension Scheme

Enhanced And Ongoing Clinical Skills Training.

Personal Development, And Career Progression

Dedicated Team Leaders And Nurse Support 24/7

Diverse And Challenging Care Work

Work in a thriving and supportive workplace

Permanent Contracts Available
Looking For Career Development?
With ongoing enhanced training, regular reviews and ongoing support you will be able to remain fully up to date with the latest innovations in clinical care.
Working within a small team you will be supported by your own dedicated, line manager and will have access to senior Nurse support providing 24/7 guidance and advice when you need it.
If you're looking for progression, we can offer you a great career.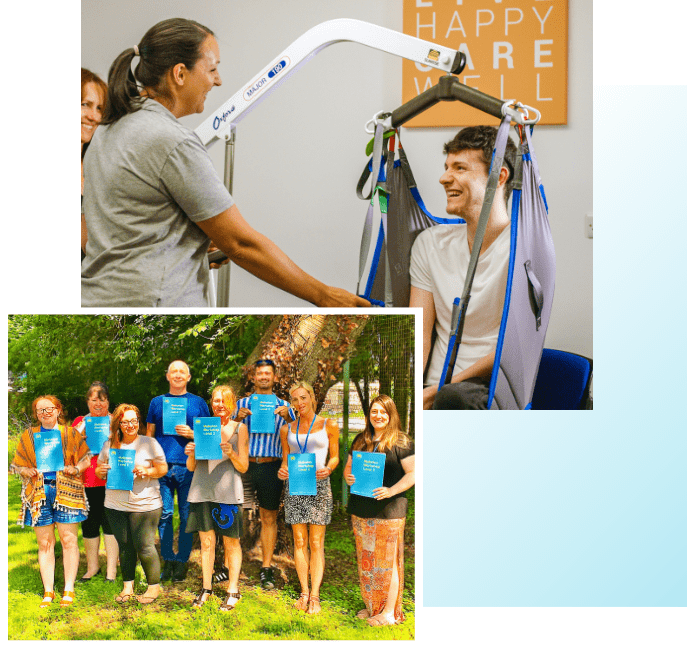 We are very proud of our Complex Care nurses, healthcare assistants and support workers. Daily they support children, young people and adults across Devon and West Somerset with a variety of complex physical and mental health needs
The Way We Work
Everyone at Ocean Healthcare is driven by the same desire and commitment to ensure that every person we care for feels safe, happy and empowered.
We're Expert
We're Personal
We're Caring
We're Active
We're Committed to delivering exceptional Care
As a member of Ocean Healthcare you are not simply a Carer doing a job, you are an integral part of our team. A member of the Ocean family. Together we're changing lives and making a difference to so many people."
We recognise the work you do carries a lot of responsibility.
With our philosophy of "live Happy Care Well" we believe that the happier you are, the more likely you are to care well. It's important to us that we take the time to understand your needs and support you as best we can. You give exceptional care to our service uses: We aim to give exceptional care to you!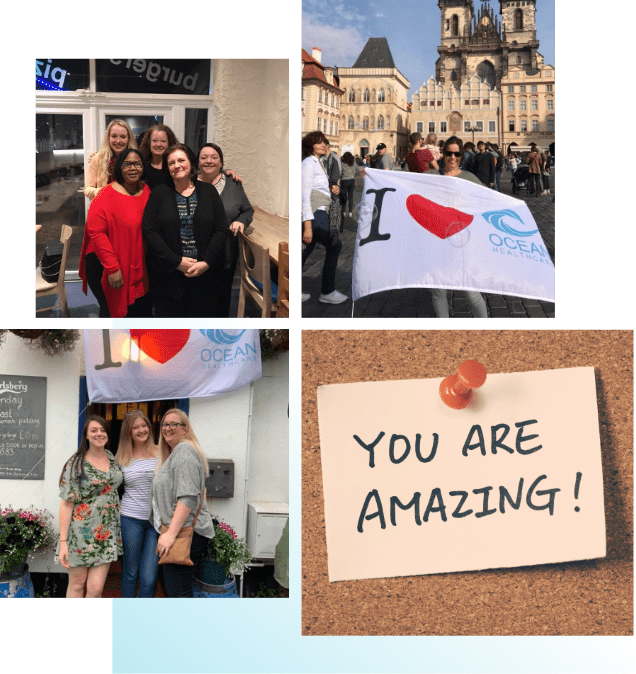 Ready To Be Part Of Ocean Healthcare?
More Praise

From Our Team Members
Love working at Ocean. Great and friendly admin team.

Mariana P.

May 2021

Ocean Healthcare is a pleasant team to work with. They are approachable and professional. I am so glad that they could accommodate flexible shifts in my preferred locality. I enjoy working from different care homes and meeting new colleagues. I'm looking forward to book more shifts with Ocean.

Chad F.

June 2021

The most understanding, helpful and friendly team to work for. Lots of work available all the time. They will do anything they can to help, no better company to work for.

Fran B.

June 2021

Excellent company to work for. Friendly & very supportive admin team. Deeply grateful receiving a birthday card today one of the BEST by far. THANK YOU

Oni K.

April 2021

Got registered yesterday to start with Ocean and the help and support I have received so far has been amazing. Shifts are already coming through and I'm excited to start my new journey with them.

Jennifer M.

May 2021

Lovely to Join Ocean again for some extra shifts. They are all so lovely in the office and being back after 2 years was like I've never been away!

Lovely to see you all today for a return back and especially Thankyou Hayley and Helen for refresher Training. Highly recommend Ocean welcomed back with no problems at all.

Thankyou Guys

Tina B.

May 2021
Frequently Asked Questions